Service Dept. & Sales
Mon - Fri 8:00 - 4:00
Saturday Closed
Sunday Closed
STORE / ICE CREAM
Thank You for a great season
no regular store hours, manning the office
See you in 2022
Marina Services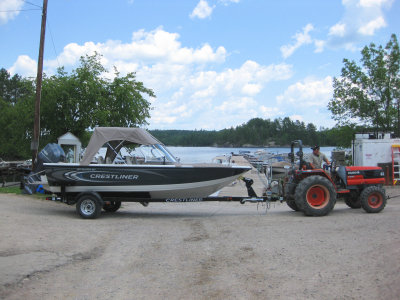 Boat Storage, Marina Slips, Vehicle Parking & Houseboat Slips/Winter Storage
Summer storage rates include parking for your vehicle.  Additional parking is available for $5 per day.
Garbage drop off is available for $3.00 per bag.  You can pick up blue garbage bags in the store.
Dock staff is here to help you with your dockside needs, including; helping you dock your boat, loading or unloading your boat, pumping gas and getting bait or ice.  Please utilize their young energy.
Prices subject to change.
Boat Launches/Pulls
Boat Launching
$17 - We launch with your trailer
$25 - We launch your boat from being blocked in storage
$17 - We pull with your trailer
$25 - We pull your boat and block it up in storage
$17 - We launch w/your trailer
$17 - We pull w/your trailer
$25 - We launch w/our trailer
$25 - We pull w/our trailer
$5 - Launch your own boat (includes parking for the day)
Inside Boat Storage
Outside Boat Storage
$4.35 - Monthly/Per foot: early and winter inside storage
$4.75 - Monthly/Per foot: summer only inside boat storage
$300 - Summer: May - Sept
$80 - Monthly
$245 - Winter: Oct - April
Marina Slips
Vehicle Parking
$815 - 21' Slip: Seasonal
$875 - 25' Slip: Seasonal
$280/$310 - Monthly
$90 - Weekly
$5 - Day w/ launching ramp
$35 - Week
$125 -Month
$250 - Summer Season
Transient Dockage
Houseboat Slips
$90 - Weekly
$20 - Daily
$1250 - Summer Season
$400 - Winter Storage
Handberg's is also proud to offer custom boat flooring. Call for pricing! 218-993-2214


Parking and Launching (Facility Use)